Associated Feature(s):
FEA124 - Set follow-up actions that alert you to something in the future.
The use of Follow Ups in Solarvista X9 allow you to create reminders/tasks for yourself or other users. Follow Ups can be created on the Follow Ups tab. You are required to select a date and time that the follow Up is due, a note about what the follow Up is for and what it applies to. Once you have entered the details of the Follow Up you can then assign the Follow Up item to yourself or another member of staff
Follow-ups can also be set on:
General – Appointments, Letters & Notes, Projects
Sales - Opportunities, Quotations and Sales Orders,
Service - Service order jobs
Inventory – Goods Inwards, Goods Outwards, Purchase Orders , PO Advice Notes
Finance - Sales Invoices, Sales Credit Notes
Agreements - Agreements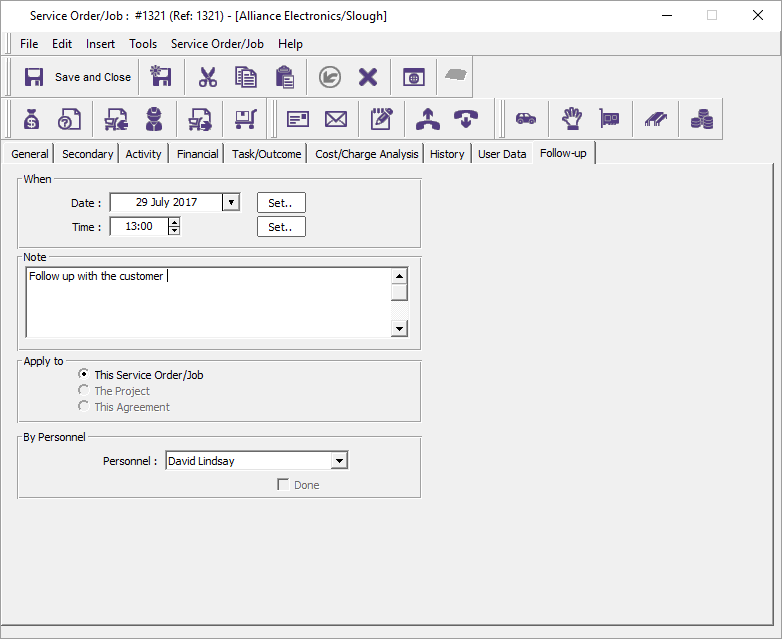 You can then view all of your Follow Ups within the General tab by launching the Follow Ups module

Opening the Follow Up from this area launches the actual item on the Follow Up tab where you can action the Follow Up before marking as Done using the tick box and pressing save.