How to activate your account and sign in to the Web Portal.
To sign in, you must already have been invited to be a user by the administrator of the account. You will have received an invitation email with the correct link URL and sign in credentials. All users are initially given a "Solarvista ID" which is in the format of first.last@live.solarvista.com together with a temporary password, which you are forced to change upon first sign in.
To sign in to Solarvista™ visit https://portal.solarvista.com. You'll be presented with a sign in page: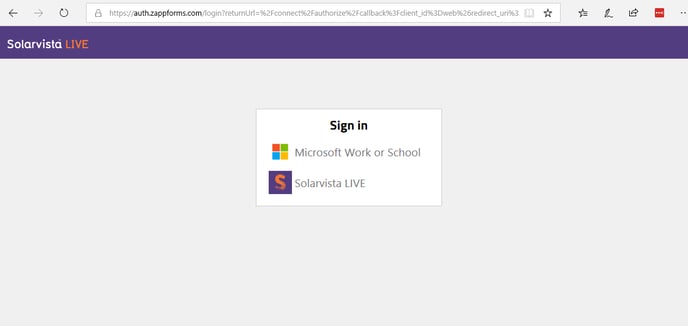 If this is the first time you are signing in, you must select the "Solarvista" option first. This will then redirect to the Microsoft ID page where you can enter your credentials. These are the credentials from your original invitation email. When you enter your credentials, if validated, you will be redirected back to Solarvista™.
If you are already a user of multiple Solarvista™ accounts, you will be presented with a choice of accounts to sign into. You can only sign in to one account at a time, however you can quickly switch accounts within the portal (see Account & System menu).
A guide to navigating the Web Portal can be found here.
Associating your other Microsoft IDs with your Solarvista ID.
Once you have successfully signed in with your Solarvista ID (ends with live.solarvista.com), you can associate your existing Microsoft Office 365 or Google ID with your Solarvista™ account. This allows you to use a single identity that you are familiar with and use often.
Forgotten password.
For federated ID providers like Microsoft and Google, you must visit the appropriate page to reset or recover your password. We at Solarvista do not know, and never know your password. You should click the link on the respective Microsoft or Google page.